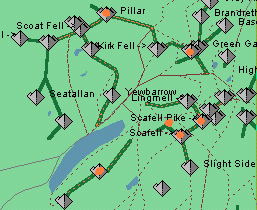 Wasdale is one of the English Lake District's finest dales with one of its finest pubs "The Wasdale Head Inn" the home of English rock climbing. Lingmell & Scafell Pike, make an easy walk to Englands highest summit, Lord's Rake, a scramble to the summit of Scafell with dramatic rock scenery, Great Gable & Kirk Fell and the Mosedale Horseshoe, including Yewbarrow, a fine circular ridge walk over Pillar, Red Pike and Scoat Fell.
The tiny churchyard is the last resting place of a number of climbers who perished in the mountains of the world. Once, Wasdale did not have a church and an old Corpse Road leads across to Eskdale's church, passing the Burnmore Inn (Woolpack also nearbye), an easy walk for a bad day. Illgill Head to the south of Wastwater forms an impressive cliff of scree for the length of the lake. Esk Pike is not in Wasdale but is a possibility.
Wasdale landscape photos
Wasdale easy walks



Getting there.
Once at Wasdale Head a weeks walking can be had without need of a car. However, there isnt much public transport. Gosforth does have a taxi service (phone: 019467 25308) and in 2006 operated a taxi/bus between Seascale and Wasdale Head in conjunction with Cumbria CC.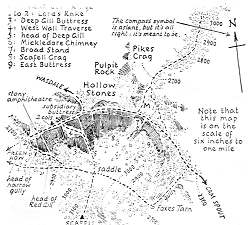 Maps and guides
(click

to consider buying from Amazon.co.uk)
Wainwright's Guides remain the definitive reference for the ELD and Wasdale. Hand drawn and written, they describe all the routes to and between the Lakeland hills. Pocket sized, hardback. Fully illustrated with maps and sketches by the author. First published 1955-1966. The Wasdale hills are to be found in two of the volumes:-
"The Western Fells" covers north of Styhead Pass - Pillar, Red Pike, Scoat Fell, Yewbarrow, Great Gable and Steeple. (33 fells in all).


"The Southern Fells" covers south of Styhead pass - Scafells, Bowfell, Illgill Head, Lingmell and Harter Fell. (30 fells in all).


Revised and anniversary editions have been produced

Maps
OS Outdoor Leisure 6 South West

1:25000 covers most of Wasdale except Pillar and Steeple.
OS Outdoor Leisure 4 North West

1:25000 needed for Pillar when doing Mosedale Horseshoe.
Harveys Superwalker Lakeland West.

1:25000


Links:-
The English Lake District
Wasdale Mountain Rescue Team
Wasdale Head Inn (temporary website)
Lingmell House B&B
Burnthwaite Farm B&B and cottage
"Country Cuts" farm shop (Santon Bridge)

Cumbria coast photos photos