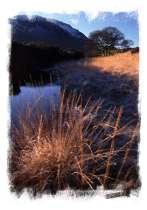 Wasdale and Eskdale - "Easy" walks - Pushchair walks
Corpse road
A good walk for a bad or rest day
Wasdale Head is linked to the church in Eskdale by a track


taking the lowest ground between Wasdale and Eskdale, passing by Burnmore Tarn

. This track dates from the time when Wasdale did not have its own church and bodies had to be transported to Eskdale

for burial. Both the Brook House Inn, The Boot (formally Burnmore Inn) and the Woolpack Inn (a little to the east) are convenient at the other end of the walk for refreshments. (Note that the Illgill Head path is now more popular so watch for where the Corpse Road branches off).
Ritson's Force
For a stroll when the weather unexpectedly clears, walk over the old packhorse bridge

behind the hotel and walk up between the walls to Ritson's Force

(down on right of path) and on into Mosedale.
The foot of the Lake
Parking at 31485052 where the lakeside road finally leaves the edge of the lake (just before the cattle grid) it is possible to take very easy paths round the western shores of Wastwater

. There is only one stile, at the start, which can be avoided by walking west a little along the road and using the gate to Wasdale youth hostel (Wasdale Hall)

.
Illgill Head
Another "easy" walk from The Wasdale Head is along the south side of Wastwater and over Illgill Head above the screes



.
The Lakeside "path"
Although easy ground for hillwalkers the lakeside path is bouldery in the extreme


(no escape routes) and has been the scene of rescues by Wasdale MRT ! Illgill Head


, by contrast, is a pleasant grassy stroll. (It is inadvisable to venture onto the unstable screes themselves)


Muncaster Fell
An easy one way walk over Muncaster Fell can be engineered from "Muncaster Mill" (on the Ravenglass and Eskdale railway)

by talking the footpath towards Muncaster Castle until you reach the A595 where you turn left towards the summit up "Fell Lane" descending to Muncaster Head (farm) over a variety of paths and finishing on the farm track and on to "The Green" station beyond the King George IV pub. (The area below the summit is boggy but the worst is avoidable by taking the best paths).
| | | | | |
| --- | --- | --- | --- | --- |
| | | | | |