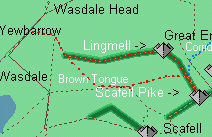 The Brown Tongue route

to Scafell Pike

is the easiest route to the summit of Englands highest peak but it can be improved upon considerably with only a modest amount of extra effort. By incorporating the western ridge of Lingmell into the ascent the walker gains height quickly and is rewarded with correspondingly superior views of Scafell and the cliffs of Scafell Pike. Pillar and Great Gable are constantly in view and the summit area is dramatic

to an extent unguessed at from the grassy ascent.
From the Wasdale Head walk west along the road for a few minutes and then cross a field to the small bridge across Lingmell Beck, turning right (west) to contour up the toe of Lingmell. Where the path rounds the base of Lingmells ridge

, take the path striking east up the prow of the ridge. The angle steepens, a stile is crossed and after some hard work the slope eases off at about 1800 ft. Taking time out for a rest we can now appreciate the scenery all around whilst those on Brown Tongue are constricted by the slopes of Scafell and Lingmell to either side of them.


Progress is now easier across a high sheepwalk until the outcrops of the summit area are encountered.

A bit of scrambling about brings us to the summit cairn which overlooks Lingmell Crag on the north side with precipitous views down into Piers Gill

. This is the place for lunch, to give an opportunity to study the rock scenery below, far superior to the crowded summit of Scafell Pike.
The route onwards requires a drop of about 50 feet to Lingmell Coll

, crossing an old wall on the way, and picking up the Brown Tongue route just before it turns right towards the summit of Scafell Pike. This section of the walk can be confusing in mist when a compass should be brought into play to ensure hitting the Brown Tongue path and not going too far north and picking up the Corridor Route in error. The path now passes the Pikes cliffs on the left to gain the bouldery summit slopes and the massive summit cairn.
Descent can either be by Brown Tongue (remembering to branch off right for Wasdale Head just before the enclosed fields are reached after fording Lingmell Beck) or for more Gill views, this time Greta, by the Corridor Route and Sty Head.