London Guide Books
To get the most out of London it pays to be reasonably well informed, the books listed here range from guides suited to the general tourist to the definitive reference work for the interested Londoner.
To buy books use

buttons for UK Amazon, or for Amazon.com use


Where a book is out of print the button is


London guide books
- general - are here
- reference - are here
- food - are here
(Illustrations copyright and courtesy of owners)
Search

Walking in London and Greater London

Time Out London Walks
"Time Out" is London's premier weekly listings magazine. They publish an excellent series of "what to do in..." guides.
Contributors include travel writer and BBC London presenter Robert Elms.
Volume 1
"Thirty walks from London writers, each revealing a personal insight into their chosen corner of the capital. With contributors including novelists, journalists, comedians, cartoonists and historians, the result is a book that can be read with pleasure at home, as a collection of writings about London, or used as a practical guide to the city's streets and green spaces. "
Volume 1



Volume 2


Secret London
Andrew Duncan
Underground London. Exploring the hidden city with eight original walks including three following buried rivers, The Fleet, Tyburn and Westbourne. 30 unusual places to visit.




Walking London
Andrew Duncan
30 walks, mainly in central London but spreading out to the most interesting areas away from the centre, including Greenwich, Windsor (well away!) and Hampton Court.
"'the best and most comprehensive of its genre…the skill which sets this volume above other publications is the way in which practical details about the route are woven with historical and contemporary information..a definite buy" The London Society




Favourite London Walks
Andrew Duncan
50 of the best walks from Andrew Dunce's other books.




Walking Notorious London
Andrew Duncan
New and old notorious London, brothels, prisons, executions, swindles, murders, rookeries, prostitution, porn' trade, gang warfare, gambling and royal mistresses.




Walking Village London
Andrew Duncan
25 London villages, away from the centre, London is full of what were once separate villages that still retain a special character. Hampstead, Wimbledon, Kew, Bexley, Dulwich, Highgate etc.




London Walks Map
Andrew Duncan
30 walks on a map.




London The definitive walker's guide Saunders Cicerone
300 walks. This is London walking for those looking to plan mainly "green" walks all over Greater London rather than those looking for historical walks in central London. Each walk is given a short description and is summarized by 16 factors including good detail of terrain and surface, signage and, an innovation, "green" and "blue" percentages. (an estimate of the percentage of the walk next to grass or water). Illustrated with attractive photographs. An initial map section shows the location of the walks. Where wheelchair access is available it is detailed. Indeed, as the section on "challenge" walking comments that for many any walk is a challenge I feel the author is very sensitive that not all have his natural abilities (long time member of Long Distance Walkers Assoc.). The guide cannot of course give "turn left here" descriptions of so many walks but it does give details of where to get (usually free or inexpensive) full details of each work.




Discovering Off-Beat walks in London
John Wittich Ron Phillips
A pocket sized guide to a range of walks round some of the most interesting parts of central London.
St Pauls, London Wall and Cheapside
Lincoln's Inn Fields, The Royal Courts of Justice, Carey Street, Temple Bar
Chelsea, The Kings Road, Cheyne Row
Fleet Street, Temple Bar, The Old Cheshire Cheese
Westminster, the Royal Parks to Westminster Abbey
Blackfriairs, The Mermaid, Old Palace Yard
Mayfair, Green Park, Shepherd Market, Berkeley Square, Grosvenor Square.
The Monument, Leadenhall Market, Eastcheap, St Michael's Alley, Ball Court.
Sketchmaps, photographs and a commentary of all the interesting things along the way.

100 Walks in Greater London
Mainly circular walks covering the wider area of London.




London by pub, pub walks around historic London
Bruning
"The first work to describe London's historic pubs in any detail... illustrated
with gem-like colour photographs" The Guardian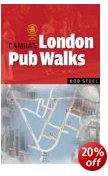 CAMRA London Pub Walks - Steel
Independent guide to nearly 200 pubs with routes of varying lengths. Beer range and architecture.



Also: Historic pubs of London - Bruning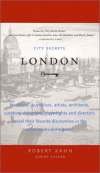 City Secrets : London - editor Kahn
Novelists, journalists, artists, architects, curators, designers, playwrights and directors reveal their favourite discoveries in the ultimate insiders guide.



.


National Trail Guide "The Thames Path"
You could of course walk the whole of the Thames path, if time is not a problem
2001 edition showing several material recent changes bringing several new sections of riverbank onto the route. Description plus extracts from OS maps at 1:25000 and 1:16000 scales.



London Theatre Walks
Jim de Young
Thirteen dramatic tours through four centuries of history and legend



see also:-
The Theatres of London - Mander




The Great Theatres of London - Bergen




Theatre London: an architects guide - Heathcote




London Theatres - Mike Kilbarn, foreword Zoe Wanamaker




Walking the London Blitz
Harris
An unusual angle. Seven walks in City and West End designed to bring the Blitz to life.




Walking Haunted London
Richard Jones
Professional tour guide Richard Jones gives the low down on Jack the Ripper, Dick Turpin and the the spookiest places in London.

Walking Literary London
Roger Tagholm
25 walks around literary London (with maps).Novelists, poets and playwrights, both ancient and modern.
Time Out London
General guide to match the walking guide




London A-Z
Street map book with gazetteer of all street names.
(Every Londoner owns one of these and every visitor should have one)
London


Central area only



Collins - London by tube
Which stations serve which places, a colour coded guide for visitors wishing to use the underground for a London visit (Jan 2003 out of print)


Dorling Kindersley Eyewitness Guides
Eyewitness London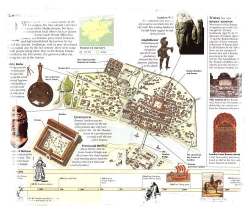 Excellent pocket sized general guide with heavy emphasis on visual presentation by maps, 3D street plans, cutaway diagrams, drawings and photos. Remarkably easy to follow compared with a written guide.
History and culture. "What to see" with cutaways and floorplans so you will not need further guides. Street maps. Restaurant and hotel listings. Entertainment. Survival guide. Travel information.
"The guides that show you what others only tell you".



Eyewitness Great Britain


Likewise whenever I visit an unknown country I take the Eyewitness guide for the country. The same great presentation as the city guides.



Eyewitness Europe
A compressed guide to Europe for North Americans doing a "grand tour". If investing a lot of money in a tour of Europe my recommendation is to get all the Eyewitness individual country guides, it is a small percentage of the total cost of the trip. On the other hand perhaps you like to travel light with just a single guide for the main sites?



Eyewitness: Great places to stay in Europe
A guide to what the title says, what more can I say?




London Guide
Rosoff




London at Dawn - Epes
Colour photographs of London in the small hours and at dawn


Exploring London's gardens, a seasonal guide - Lister
A professional gardener explores the great and the good, the small and the hidden, the green spaces and the unsung corners of green London.
83 gardens including Chelsea Physic Garden, Middleton House Garden with its "plant asylum" for odd growing plants and the Kensington Roof Garden.
Each garden described with access details (including disabled) and monthly lists to visit each garden at its best.


Legal London, a photographic history - Mark Herber
Old photographs of legal London



The London Encyclopaedia
Ben Weinreb & Christopher Hibbert
Exhaustive London reference. Over 1000 pages and 5000 entries. The history and culture of London up to the present day. A few years since published so don't expect the latest buildings etc. This is the book for the London enthusiast who does not mind a rather dry text but appreciates the facts.