Traditional English food
Traditional English food is often characterised as bland and stodgy. Historically there is justification for this and perhaps the pies and pudding of the past were necessary fare for agricultural and industrial workers in an often cool and damp climate. Certainly food rationing during and after the second world war did nothing to help, but British food has now moved on and in London especially the visitor can experience modern British cookery at its best from chefs like Gordon Ramsay <Ramsay cookery books>, Gary Rhodes (Rhodes 24 at Tower 42 <website>) and from restaurants like St. John near Smithfield Market or Roast at Borough Market.
"What London has that other cities don't right now is high quality food at all levels. In every category, from comfort food to gastronomic experiments, we loved what we ate" John Willoughby, executive editor, US magazine "Gourmet".

London now
Almost every cuisine in the world is represented in London, from quality Italian cooking at The River Cafe out in Hammersmith, (in the suburbs you will sometimes find "Italian" restaurants whose association with Italy is far in the past) through Chinese in Soho and curry almost everywhere. <Central London curry houses>. There's no guarantee of authenticity of course. I note some Americans expect to find good Mexican food, which is probably the last thing to look for, although there are one or two to be found. My advice is not to look for ethnically themed places at all, many of the best places now serve what can be best called "modern British" or "modern European" cooking, interpretations of some traditional dishes along with new creations drawing on food cultures from all over Europe and further afield.
Restaurants are constantly changing so either a good eye for a restaurant or a guide book are essential. In Spain or Italy, for example, you are unlikely to get really bad food anywhere except a few tourist traps, but in London take a little more care. I always avoid chain restaurants, places with laminated menus that don't change with the season, smells of cheap cooking oil and "chips with everything" establishments. If you're looking for something cheap (London isn't a cheap town) try a pub or a sandwich bar. I never eat in burger bars, cheap kebab shops or from street hot-dog vendors. In the upmarket restaurants in places like Charlotte Street you will often find offers available if you are willing to eat at lunchtime rather than dinnertime (lunch starts at about 12 noon in London and dinner is at 8 pm although traditionally people may eat as early as 6 pm. Recently it has become much easier to eat later but don't expect to be able to sit down at midnight.
Restaurant bills may have service already added, if not you may wish to leave a discretionary tip of about 10%.
Dress codes
In the top end hotels and restaurants you may find some places that require men to wear a jacket, a tiny number of places also insist on a tie. The Ritz is one that insists on the latter. La Gavaroche on the former (2005) Both have items they will lend you. The number of these establishments dwindles each year. (I have never worn a tie to a restaurant in my life, DJ (tuxedo) occasions aside.
"Smart casual" is fine everywhere else. Leather shoes, chinos and a shirt, plus a jacket if you feel it's a smarter place.
Sleeveless vests and shorts may be frowned on but will probably be allowed, but don't believe you are fitting in. The same applies to a lesser extent to jeans, trainers and track suits. (Although jeans may not be regarded as the thing to wear in smart places, don't believe the old myth that wearing them is going to mark you down as an American).
In pubs and modest restaurants anything goes except that bare chested men will usually not be served.
Beware of pubs that have a no trainers/jeans rule and a doorman to enforce it, this is more likely to indicate rough customers than the opposite. The same goes for a pub displaying an "Over 21 only" sign.

Curry
Almost every suburban high street in London boasts at least one curry house, but if you are in Central London, they form a much smaller percentage of the restaurants. Almost all curry houses provide a "take away" or "carry out" service for eating at home (possibly except for the smart central London ones), as do most Chinese restaurants.
Unfashionable Brick Lane is a centre of curry houses for the indigenous Bangladeshi population.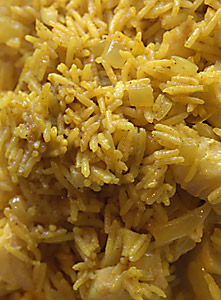 Some central London curry houses:-
Benares Berkley Square W1<website>
Bombay Brasserie Courtfield Close SW7 (£££)<website>
Cafe Lazeez 21 Dean Street W1<website>
Cafe Spice Namaste 16 Prescot Street E1<website>
Caravan Serai 50 Paddington Street W1
Chor Bizarre 16 Albermarle Street W1
Chowki 2-3 Denman Street Piccadilly W1
Chutney Mary 535 Kings Road SW10 (£££)<website>
Cinnamon Club Great Smith Street SW1 (£££)<website><cookbook>
La Porte des Indies 32 Bryanston Street W1 (£££)<website>
Malabar Junction 107 Great Russell Street WC1 <website>
Palms of Goa 12 Charlotte Street W1
Rasa Samundra 5 Charlotte Street W1 (fish)<website>
Red Fort 77 Dean Street W1 (£££)<website>
Salloos 62 Kinnerton Street SW1
Soho Spice 124 Wardour Street W1
Tamarind 20 Queen Street W1 (£££)<website>
Quilon 41 Buckingham Gate SW1 (£££) <website>
Veeraswarmy 99 Regent Street W1 (£££)<website>
Zaika 1 Kensington High Street W8 (£££)<website>
(£££) at expensive end of scale
If you get away from the centre to Bromley or Bexley (SE), do try:-
Tamasha Restaurant & Hotel
131, Widmore Rd
Bromley Kent BR1 3AX
Tel: 0208 460 3240
(Bromley North station, double room £65 (2003) )
<website>
An elegant if expensive restaurant in the top 100 UK curryhouses, redolent with memories of the raj. I recommend trying the fish or seafood dishes and do finish your meal with Tamasha special coffees (min 2 persons) expensive but spectacular!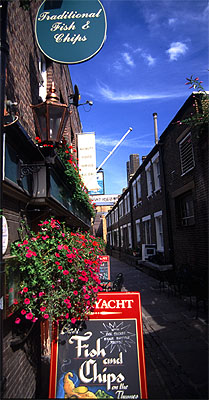 Pubs
Almost every street in Central London has a pub somewhere. You are most likely to find traditional old style English food in a pub (although it could be almost anything from cheap to high end, although rarely fish and chips as in "The Yacht" in Greenwich, pictured here). Do try English beer ("bitter"), if you don't like the first pint, try another. Yes, it is meant to be virtually still, and no, it should not be freezing cold. The traditional beer is usually that served from pumps on the bar (which should actually pump up the beer, not just act as switches, no CO2 should be involved), in pints and half pints. Anything fancy on the the bar which lights up and dispenses gassy liquid by pressure or pump is not English beer and will probably be inferior copies of German or Scandinavian lager style beers (or the despised "keg", fake British beer, brewery filtered and served under gas presure). There is rarely waiter service in pubs but as so many become more and more food oriented this is changing a little.
Most pubs serve food at lunchtime, many in the evening and some now stay open all afternoon. Although the mad English licensing laws, (leftover from the first world war) are now much moderated many pubs (especially in quieter areas) will be closed between 3 pm and about 5.30 pm. Closing time will be sometime from 11 pm.
The other traditional British drink is of course whisky, served in pubs in tiny measures, without ice."Glenfiddich" is often available as one of the main choices.For a quality malt whisky you would probably like "The Macallan" which is one of the softer sweeter Speyside whiskies, there will often be a bottle on display at the back of the bar.
Pubs normally also sell table wine by the glass.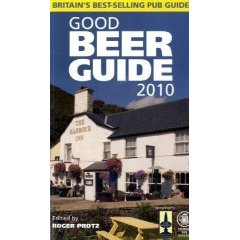 The CAMRA Good Beer Guide 2010.
4,500 of the best pubs throughout the country serving good beer selected by CAMRA's 77,000 members (no listing fees accepted) plus beer, breweries and beer festival listings. Listing of pubs of significance to national heritage. Prize winning beers of the year. Edited by Glenfiddich award winning Roger Protz

Eating out in pubs - Michelin
Good food in informal surroundings.
The British pub has been transformed over the last twenty years. Once a place to drink good beer, play darts or dominos and chat, the arrival of the car as the usual means of transport at first opened up many rural pubs to new visitors. But the realisation that drinking and driving didn't mix then left many in crisis. Beer had often reached a low point with second rate "keg" substitutes for the real thing and no food. Luckily enterprising landlords soon realised that things must change and the modern pub emerged, selling good "real" ale alongside good food. When this guide clattered through the letterbox, it only took a few minutes to see they had found most of the classics, pubs that it had sometimes taken me half a lifetime to stumble across, others I used to play darts in after work, that I learn with surprise are now serving good food rather than crisps.
Each pub gets a page, with a colour photograph, contact details, facilities and brief directions.A box indicates which real ales are served.(Its sad to see, from an English point of view, that the Irish pubs still generally have no real ale, oh for a pint of "real" Guinness) Food serving times and prices are given and then there is a pen portrait of the pub and its food along with typical dishes.
This is the first edition of this guide, long may it continue!
Buy from


The Gastro pub cookbook - Diana Henry


150 of the best dining pubs in Britain and Ireland.
20 gastropubs dealt with in detail with atmospheric black and white photos of the regulars along with colour photos of the pub locations and the food. Recipes from the featured pubs are usually at the "comfort-food" end of modern british cooking. Things like smoked haddock with poached egg and mustard sauce, shepherds pie or lamb shanks with harissa on pea couscous.



The London Pub Haydon
115 pubs from the East End to Soho. The pubs origins, architecture and character with photos of interiors and exteriors. An ideal starting point for a pub crawl round some of the best pubs in London and a nice souvenir for the visitor. Practical information with location maps, opening hours and food and drink.There are many interesting pubs in London but some of the best are hidden away, although only yards from busy roads. Do you know which pub is on both sides of a street connected beneath the pavement?
Which pub has written above the bar "Meum et propositum in taberna mori vinum. Sit appositum marlentis ori, ut decunt cum venerint angelorum chori. Deus sit propitus huic potentori"? "To die in a tavern is my definite plan, with my mouth to the tap as close as I can, that the angels would say when singing began: O Lord show mercy to this boozy man".
Which pub used 50 types of marble in its construction?
Which pub, founded in 1583, was the model for "The Six Jolly Fellowship Porters" in Dickens's "Our Mutual Friend"?
You would if you owned this book!


Some classic London pubs
The Champion
13 Wells Street W1
The Coal Hole
91 Strand WC1
The Cock
27 Great Portland Street
The Lamb & Flag
33 Rose Street WC2
The Ship & Shovel
Craven Passage WC2
The Grapes
Narrow Street E14
The Lamb
Leadenhall Market EC3
Punch Tavern
Fleet Street EC4
Ye Olde Cheshire Cheese
Fleet Street EC4
The George
Borough High Street SE1
The Mayflower
Rotherhithe Street SE16
The Trafalgar Tavern
5 Park Row SE10
The Dove
Upper Mall W6
The Prospect of Whitby
Wapping High Street
CAMRA listed interiors
The Black Friar
Queen Victoria Street EC4
The Olde Mitre
Ely Court
Citte of York
22 High Holburn WC1
The Princess Louise
208 High Holburn WC1
The Salisbury
St Martins Lane WC2
The Black Lion
Kilburn High Road NW6
The Red Lion
Duke of York Street SW1
The Argyll Arms
Argyll Street W1
The Windsor Castle
Campden Hill Road W8
Warrington Hotel
Warrington Crescent W9
Food specialists
The Eagle
Farringdon Road EC1
The Oak
Westbourne Park Road W2
The House
Cannonbury Road N1
The Duke of Cambridge
St Peters St N1
The Highgate
Highgate Road NW5
The Drapers Arms
Barnsbury Street N1
The Ladbroke Arms
Ladbroke Road W11
The Well
St John Street EC1
The Fox
Paul Street EC2
The Pilot
56 Wellesley Road W4
The Cow
Westbourne Park Road W2
The Anglesea Arms
Wingate Road W6
Ealing Park Tavern
South Ealing Road W5
Anchor and Hope
The Cut Waterloo SE1
The Waterway
Formosa Street Bayswater W9
Wine bars
The number of wine bars grows daily, on average they will tend towards better food with less of the hubbub of a pub.
Fish and Chips
A few central London chip shops. Note that the fish market is not open on Sunday/Monday so avoid those days.
Fish Central 149 Central Street Barbican EC1
North Sea 7 Leigh Street WC1
Rock and Sole Plaice 47 Endell Street WC2
Fryer's Delight 19 Theobolds Road WC1
Golden Hind 73 Marylebone Lane W1
Sea Shell 49 Lisson Grove NW1
Seafresh 80 Wilton Road SW1
Masters Super Fish 191 Waterloo Road SE1