Britain's obsession with curry began with the "raj1" in India, resulting in the first known (but short lived) British curry house opening in Marylebone in 1809 to serve food to returning sevants of the East India Company who had aquired the taste. This interest was reinforced by post war immigration from the sub-continent, which turned curry into a £3 billion a year industry (2005). In the early days "a curry" was something to eat after the pubs closed (see Keith Floyds account) but things have now gladly matured and most restaurants offer good food to customers looking for more than some "grub" after the "pub". Indeed "Chicken Tikka Masala" a British curry, has overtaken fish and chips as the nations favourite meal and curry accounts for 2/3rds of all eating out.
The modern curry is often far removed from the authentic food of the sub continent, rather they are fusion cooking, we are privileged to be witnessing a food tradition in the making, be part of it!
1]British rule in India, literally "reign"
---
"The old men running the (film) industry just have not got a clue…Britain is no longer totally a white place where people ride horses, wear long frocks and drink tea. The national dish is no longer fish and chips, it's curry." Marianne Jean-Baptiste (British actress) May 97 (about Cannes film festival)
---
Curry Books
Curry In London
An incomplete A to Z of Indian & Anglo-Indian food terms in use in UK
Don't take the recipes (where given) too literally, play around and experiment, thats half the fun. Some, like vindaloo, I have tried to make authentic, others like "CTM", well, what is authentic?
(Recipes are for 2)
Balti
Curry originally popular in Birmingham, taking its name from its pot, traditionally eaten with bread direct from the sizzling pan.
Bhuna
Sautee or pot roast
Biryani
Biryani is a mild but fragrant rice dish.
Biryani recipe

Chicken Tikka Masala ("CTM")
Chicken Tikka Masala is the most popular curry in the UK and is even exported back to the sub-continent so that hungry British tourists will not be disappointed. Basically is it chicken tikka with a cream and tomato based sauce added.
Chicken Tikka Masala recipe
Chutney (chatni)
Made from spices with tamarind, unripe mango, coconut or tomato. Should be sweet and sour but British adaptations tend to be sweeter.
Country Captain
An old name for a chicken curry, originating halfway through the 19th Century and turning up in places as far apart as Liverpool and the deep south of USA.


Dopiaza
"Two onions". A dopiaza is made by adding half the onion early and frying it then adding the second half raw towards the end of cooking.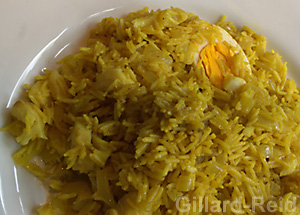 Kedgeree (khichri)
Kedgeree originated in the British Raj as an adaptation of sub-continent cuisine to meet the needs of the British.Many recipes add prawns and smoked salmon, but I feel its best kept simple with smoked haddock or cod.
Kedgeree recipe
Keema Pimento
Beef and green (bell) peppers.
The key here is too keep the peppers quite crisp
Keema Pimento recipe
Kofta
Minced into meatballs.
Korma
Braised in a sealed pot, mild and creamy.
Madras
Madras is now known as Chennai, but you will normally still find "Madras" curries on menus in UK. It will be at the hotter end of the spectrum, below the restaurant "Vindaloo" and "Phall". (The Vindaloo recipe here does not reflect this restaurant chilli grading convention but rather the Goan dish). The "tradition" of Madras curry is that chillis should be added in two stages. In other words adding some more chillis to a mild sauce to make a hotter one. Perhaps try some ground chilli at the start and then some chopped fresh red chillis near the end of the cooking.
Mulligatawny soup
A corruption of "pepper water" (tamil - milagu-tannir). A curry soup invented in the sub continent to satisfy the English need for soup.
Paneer - (cottage cheese)
Paneer is very easy to make at home.
Cubed and fried paneer is good with peas or spinach as a side dish
Paneer recipe
Rice
Everybody has a method of cooking rice that they swear by and everyone is different.
Mine is very simple. Buy good quality Basmati rice. Rinse it in cold water then add one cup per 2 persons to a good quantity of boiling water. Bring back to the boil and keep at a rolling boil for 10 minutes. Strain and rinse with hot water. Serve. (The rinsed rice will keep warm in a cool oven if needed). Remember that curry can be eaten with flatbreads instead of rice.
Tandoori
Cooked in a tandoor (clay oven)
Tarka
Seared in hot oil or ghee,caramalised.
Tiffin
Anglo-Indian term for lunch.
Vindaloo
This is a Portugese/Goan, rather than Indian dish. There is some dispute about how this dish should be prepared. I believe this is reasonably accurate recipe and is based on "vindaloo" being deriving from wine-garlic in Portuguese (not aloo-potato, which I believe is reverse engineering) and uses the pork pickled in wine vinegar the Portuguese brought with them on their ships.(This recipe has nothing to do with most restaurant vindaloos, which are hotter versions of "Madras").
Vindaloo recipe
Worcester sauce
The story goe the a barrel of indian spiced vinegar was left to ferment over a number of years and the accidental result was Worcester(shire) sauce. Or that Mr Lee and Mr Perrin had it made to a recipe, found it awful and left it in a corner, later finding it had improved.


Books
Where there is a price button

you may order the book from the bookseller.

Sahni
Classic Indian cookery

hardback



The Indian comprehensive culinary classics. A brief overview and history followed by spices and equipment, techniques, planning and then the recipes, illustrated with line drawings with a glossary including pronounciation guide.
Classic Indian vegetarian cookery

hardback


"and now for something completely different"
Floyd's India
Keith Floyd's trip around India for channel 5. Floyds relates his journey in his inimitable style, well illustrated with photos from the trip and of course the recipes.
Floyd reminisces about the early days of curry in Britain:-
".......Everybody had probably drunk between 10 and 20 pints of beer since the first dignified pint in the White Elephant. Two or three would have fallen by the wayside, quite literally; some of the sensible ones would have returned to their wives, but the single guys were hungry . A leader always emerges at a time of crisis. It was the one who stood on the table, pint in hand, tie unknotted, shirt undone, who, bright eyed and sweating, called out 'Who's for the Curry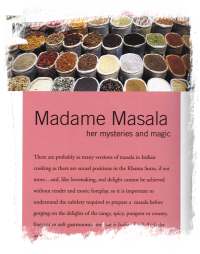 House?' And so, once again, we piled back into the vehicles, more crowded than before because one or two had disappeared, and headed back over the Clifton suspension bridge, down to the city centre, past the bus station and along to Stokes Croft where a flickering yellow neon sign announced the existence of the Koh I Noor Indian Restaurant.
Inside the dining room, with its 14 tables standing on a slightly sticky, thick carpet, each table had a slightly soiled but very starched tablecloth. The walls were covered in tawdry flock and the exhausted waiters, in their stained dinner jackets which were almost a deep, dark green through years of wear, adjusted their clip-on bow ties and prepared for the onslaught. They had an air of resigned acquiescence. Each table was dressed simply with a salt and pepper pot and a stainless steel sugar bowl filled with white sugar lumps. The call was for - because that's all there really was - six chicken vindaloo, nine meat Madras, four plates of evil smelling, deep-fried, crispy Bombay duck and mango chutney and, of course, 15 pints of lager. The bewildered waiter wrote the order on a series of little duplicate pads and headed for the kitchen only to be called back by the blue-eyed fly-half with crinkly blond hair, who was training to be an accountant, and from his position of authority on the main table he would say, 'Make that 30 pints.' Eventually, on white plates, the pungent curries and mountains of plain boiled rice arrived. There was, of course, not enough cheap stainless steel cutlery to go round. The Madras was hot, fiery and acrid, the vindaloo was diabolical. One by one, chaps would go to the bog but, one by one, they didn't return because the old hands knew that you could climb our of the window and then you wouldn't have to pay your share of the bill. So, every Saturday night was a mad Madras night.
Well, dear reader, that was in another time. It was before Indian restaurants became a culinary force to be reckoned with, before silver leaf garnished fragrant biryanis.
It was before Britain had ever heard of a tandoor oven..............."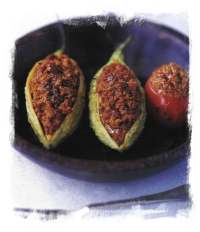 Noon book of Indian cookery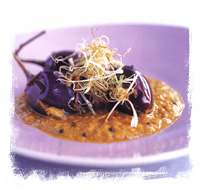 Gulam Noon MBE founded Noon products in 1988, his company produces 3 million indian meals a month (for Waitrose among others). Here his chefs [1] give practical and authentic dishes for the home cooking curry enthusiast. These recipes work well, due in part to attention being paid to which spices should be fried and which pureed, rather than the "chuck them all in" approach of some books. Many slightly unusual recipes are included, such as "Janglee Maans with Sag Paneer" (Venison in spicy sauce with spinach and cheese).
1]
Sumit Malik - International Indian chef of the year 1999
B. Sainath Rao - Taj Hotels, India, Bombay Brasserie
Puneet Arora - Taj Hotels, Jumeirah Beach Hotel
Rakesh Yadav - In flight kitchens, Delhi.
Ashok Kaul - Noon products.
Vishal Rew - Oberoi group in Bombay, Delhi and Agra

"I have known Noon (no-one knows him as anything else) for ten years and it's thanks to him that I once - for the only time in my life - cheated on my dinner guests. Hidden in the kitchen were a variety of packs of his wonderful, factory-made curries"
Delia Smith: seeing, in the cause of research, if her guests would be fooled, (they were).
Paperback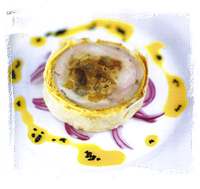 The Cinnamon Club Cookbook - Iqbal Wahhab & Vivek Singh
Curry is established in the heart of the British high street and in the supermarket, but one area where it has been slower to gain acceptance is in the rarefied realms of high cuisine. The Cinnamon club set out to make a "fusion[1]" of the styles of European restaurant cooking (especially French) with well sourced cooking from the sub continent that for culinary purposes we can call "India". Escoffier meets Sahni? Amuse bouche are fashioned from the culture of Bombay street food, Belinis on the cocktail list match champagne with lychee and rose petal. (The restaurant is housed in the premises of the old Westminster library and so self effacing that the casal passer by may not even realise it is a restaurant).
1] I have said Cinnamon Club food is "fusion" food but they would baulk at that description, preferring to see the food as a extension of indian styles into western forms.
The book is divided into sections dealing with indian techniques, then basics such as making garam masala. Starters follow, then logically main courses, accompaniments, chutneys, desserts and then, unusual for indian cookbooks, sections on breakfasts, cocktails and matching wine to Indian food. As might be expected for recipes originating from a restaurant the preparation can be quite complex and relies on supplies of things like garlic paste and ginger paste being to hand. However, this "problem" can be overcome by either using commercial mixes, substituting dry spices or, as I do, reading the recipe carefully and then making up a combined paste (garlic/ginger in the example) in advance.
Example dishes:-
Swordfish with mustard and honey.
Parsee spiced stir fried squid.
Rabbit Tikka
Green pea and corn parcels with cauliflower and potato stir fry.
Sweet potato cakes with ginger.
Punjabi kidney beans.
Warm apple lassi with champagne granita.

The Good Curry Guide Pat Chapman
Where to find the 1000 best curry houses in Britain.
(2001)

(only 1999 edition listed in US)


The Curry Secret
How to reproduce restaurant style curries.