and Wainwright's Guides
These pages offer a (very) brief written description of the Lakeland hills, but this is first and foremost just a set of photographs, just click on the "cameras" () on the detail maps, or work from the thumbnails on the detail pages. Wasdale is treated differently and described in more detail for no better reason than that its my favourite part of the Lake District. In fact this in an entirely partial guide, I have not attempted to find something positive to say about areas I don't like much, you just will not find many photos of them! Although I should say now that the Coniston fells are under represented, not because I don't like them but because I always seem to walk them in the most appalling weather.
The title of this page is intended as a homage to Wainwright's guides and I shamelessly plug them below as I believe they are, and will remain, the ultimate guides to these hills.

The Northern Fells, Skiddaw and Blencathra Borrowdale and Derwentwater
The Eastern fells, Helvellyn and St.Sunday Crag
Buttermere
High Street and the Far Eastern fells
Langdale
Wasdale
Eskdale & Black Coombe
The Coniston fells
---
Wainwright's Pictorial guides to the Lakeland Fells. first published by Westmoreland Gazette. A.Wainwright 12x16cm bw
Famous hand drawn and written exhaustive guide to the Lake District in seven volumes plus an additional volume for minor fells (hardback, pocket size).
In my years of hillwalking I have used and bought many guides to the other British hills but my set of Wainwrights has been my only Lake district guide for 25 years.
Areas covered by guides:-
FE High Street,E Helvellyn, C north from Langdales, S south of Wasdale inc. Scafell Pike and Coniston fells, NW Grasmore, W north of Wasdale, inc Pillar.N Skiddaw, Blencathra and "back o' Skiddaw"
(Image on right is a reproduction of part of the 30th page of the Scafell Pike section). Each guide contains a written description, hand drawn maps, topographical diagrams of each route of ascent, sketches and often panoramas of the summit view, for all the hills in the area, along with available ridge routes to adjacent hills. Difficult areas such as Lords Rake (below) are detailed in sketches and extra diagrams. There are a number of other Wainwright titles, some in the Wainwright style and some collaborations with photographs, one that deserves mention is the "Coast to Coast".
The second edition
Chris Jesty has updated information such as car parks and paths actually in use on the ground are shown in red, text changes are achieved by use of a "Wainwright" font.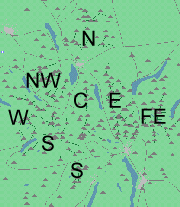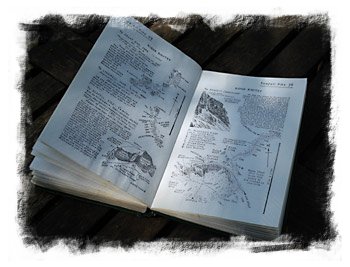 Buy the Pictorial Guides to the Lakeland Fells from Amazon.co.uk
"Second edition" refers to Chris Justy edited, "first edition" to the original book in whatever earlier edition it is being sold as. The 50th Anniversary has a frontispiece with a photo of "AW".
Eastern (second edition)


Eastern (50th anniversary edition)


Eastern (first edition, second hand)

Far Eastern(second edition)


Far Eastern (50th anniversary edition)


Far Eastern(first edition, second hand)

Central (second edition)


Central (50th anniversary edition)


Central (first edition)

Southern (second edition)


Southern (50th anniversary edition)


Southern (first edition)

Northern


Northern (50th anniversary edition)

N.Western


N.Western (50th anniversary edition)

Western


Western (50th anniversary edition)


Special edition boxed set
All seven ("outlying" not included) Wainwright guides.
The ultimate guide to the Lakeland Fells that
is unlikely to be bettered.
50th Anniversary edition (above)

Standard edition boxed set


I believe the Wainwright books will remain timeless, but if you feel the need for GPS support, have a look at Discovery guides