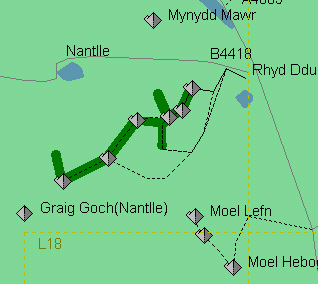 Y Garn 2080
Drws-y-Coed 2286
Trum y Ddysgl 2329
Tal-y-Mignedd 2148
Craig Cwm Silyn 2408
Garnedd-Goch 2301
(Could be extended to Graig Goch 1999)




There are a number of options to consider when planning a traverse of the ridge ("Nantlle ridge" is possibly a misnomer, the walk is better described as a series of "edges" above Cwm Pennant, perhaps "The Pennant aretes" would have been a better name?). It is necessary to decide whether you wish to "bag" all the summits or wish to follow the most interesting rock scenery. Perhaps the line of the watershed appeals, continuing on to Graig Goch?
The Pennant Horseshoe
Described in "Classic Walks",

a long horseshoe around Moel Hebog and the Nantlle ridge starting from Pont Gyfyng. Somewhat contrived as the route descends to valley level half way.



Nantlle 2000s
Drws-y-coed to Garnedd-Goch taking in all the 2000 foot peaks.
The Watershed
Drwys-y-coed to Graig Goch.
The Classic Ridge
Drws-y-coed to Craig Cwm Silyn descending north to Nantlle along the rim of Craig Cwm Silyn.
Apart from the strenuous horseshoe these walks must all be at least partly reversed unless a second car can be left in the Nantlle area.
What the guide books say:-
"The High Summits of Wales" Uney (Guide to the Welsh "Hewitts")


"this ridge is possibly one of the finest high level walk in Wales"
"Beyond Craig Cwm Silyn another minor top can be included in the walk,
although if returning to Rhyd Ddu its not really worth it"
"Great British Ridge Walks" Birkett


"Rightly regarded as one of the great ridge walks of Snowdonia".
Description unusually west to east. Described as "moderate difficulty and unstrenuous"...depends on the individual I suppose.
"The Ridges of Snowdonia" Ashton


Talks of "gentle" "forgotten" and "short infrequent scrambles". This does not describe
the route for me. Although it has six pages of description, much of it is oblique in nature.
Describes Y Garn to Garnedd Goch then north to Nantlle
The Mountain of England & Wales Volume 1 Nutall (Welsh hills of 2000 feet)


"This long airy ridge is one of the finest high level ridge walks in Wales"
"The Welsh Peaks" Poucher (second-hand only)
"a prize for the connoisseur". Poucher recommends following the rim of the cliffs of Craig Cwm Silyn down towards Nantlle, with Garnedd Goch summit cairn as an optional extra.
(

click on price button to go to Amazon.co.uk)