Modern British Recipes
Amuse Bouche of summer salad soup with bacon batons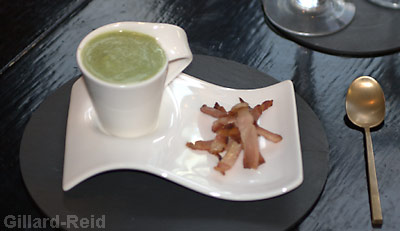 Quantities for six, dependant upon serving size.
Fry a finely chopped onion in butter till transparent. Add two Little Gem lettuce hearts (coarsely chopped). Fry till softened. Add a bunch of watercress (finely chopped) fry until wilted. Pour in half a pint of milk. cook for a few minutes on a low heat.
Blend mixture until fairly smooth. Allow to cool. Chill.
Fry (one rasher per person) dry cured bacon in olive oil. Dry on paper towel and cut into batons.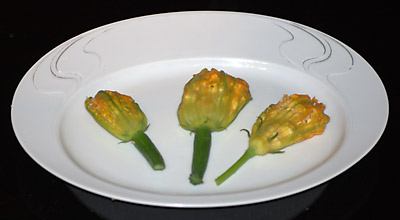 Courgette flowers can be hard to find but they are easy to grow, they should be available around the end of July. Wash the flowers, inside first, under the tap. Then stuff a mixture of chopped hard boiled egg and dark crab meat.Season with white pepper or experiment with other combinations. Steam for a few minutes and serve. They are also good fried in tempura batter.
Melon soup with basil, orange and ouzo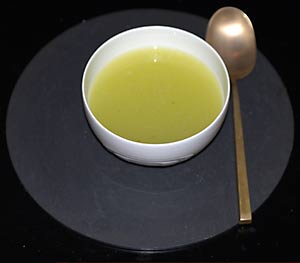 Based on Gordon Ramsay's chilled melon and lobster soup with basil and Pernod from "A passion for seafood". We have also had this with a prawn or langostine.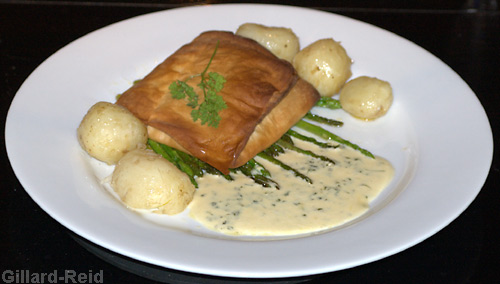 The logic of the recipe is that all of the flavour of the brill is captured in the parcels or the sauce, the filo trapping the flavour of the fish without overpowering it.
Fillet and skin a brill and put the fillets to one side.
Put the fish frame and head in a pan of water and boil for 20 mins to produce a fish stock. Discard the bones, strain and add a little white wine. Reduce.
Fold the fillets over on themselves and wrap the fillets in a double layer of buttered filo. Bake in a hot oven for 10 minutes on a oiled tray.
Meanwhile add creme fraiche or cream and chopped chervil to the stock to make the sauce and simmer.
Accompany with boiled new potatoes, dwarf carrots and green asparagus.
To serve make a pile of the dwarf vegetables and rest the parcel on top, add the potatoes and pour the sauce onto the warmed plate so that the filo parcel remains above it, to avoid sogginess.
Alternative fish - turbot, lemon sole

Cod with courgette cake and green beans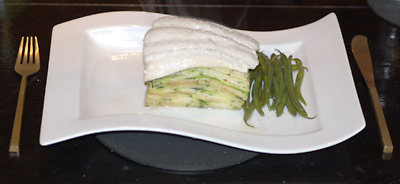 I adapted this recipe from a modern Spanish one so perhaps it should be called modern European, the courgette cake can contain any mix of spices you fancy, so experiment.
For the caramel:-
250g brown sugar, 2 x teaspoon of both cumin and cinnamon, a chopped vanilla pod 100g butter.
Cod or halibut fillets, courgettes, green beans
Pre-preparation
Melt the sugar, add the other ingredients and mix. Spread out thin on a metal tray to cool
When cool break up and whizz to a powder. Sieve out lumps.
Reserve. (this will be enough for several meals).
Mandoline 5 courgettes lengthways and lay out a layer of five strips, sprinkle with a little of the sugar mix.
Repeat with another layer arranged at 90 deg to the first sprinkle again and repeat process until you have a square of courgette slices about an inch high.
Bake on lowest heat for two hours.
Fry some cod in butter on a fierce heat, with a sharp knife cut the courgette block in half and place on plate with cod on top, accompany with aldente green beans glazed with olive oil.
Variation with boiled potato, green beans and roast or deep fried chicken in a white sauce flavoured with chives:-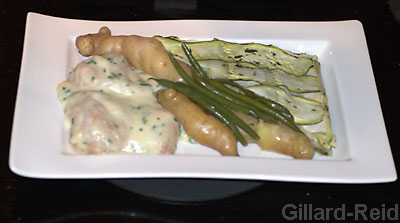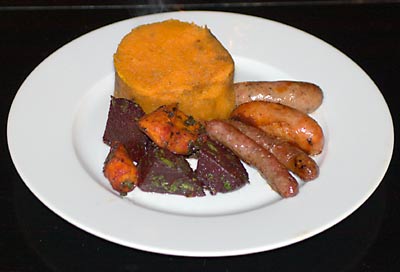 Sausage and sweet potato mash with spicy beetroot and carrot
A selection of lamb and pork sausages with sweet potato mash (made in the same way as regular potato mash, just boiled and mashed with butter) scooped into a food ring and roasted for a little while to brown (ideally more than shows in the photo!). The roast beetroot and carrot mix, spiced with cumin, other spices and herbs is from "A passion for vegetables" by Paul Gayler
The sausages were roasted in a medium oven for about 30 minutes.
Variation with boiled potatoes and coriander:-