Recipes
Scallops with haggis and peas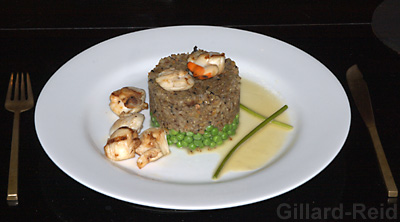 Reduce a mixture of vegetable stock and white wine, just before serving, whisk in some butter.
Fry crumbled haggis.
Griddle scallops.
Boil fresh peas. (I have not tried this with mushy peas, but it might work).
Put a food ring on each plate and half fill with peas, crush down lightly with a potato masher, then fill rest of food ring with haggis, press down lightly. Remove food ring and gently place scallops on and around. Drizzle a pool of the stock around. The peas/haggis combination is in my opinion very good and haggis goes as well with scallops as black pudding.
(Decoration is a couple of garlic scapes).

Back to Modern British Cookery Books
More recipes