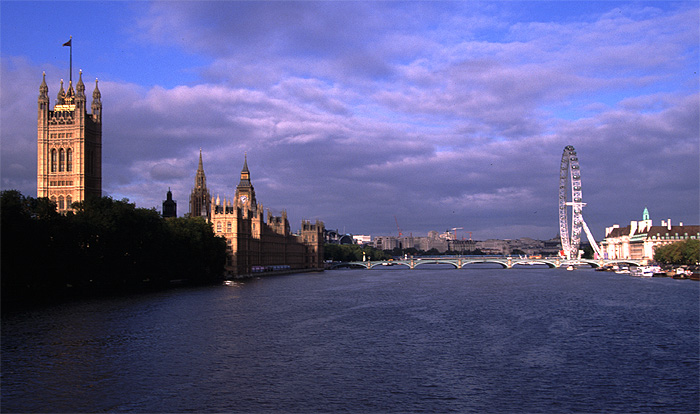 "You must build your House of Parliament upon the riverů
the populace cannot exact their demands by sitting down round you".
The Duke of Wellington

Back to London Walks , continue along the Thames path or go to the virtual Thames walk page
The Palace of Westminster or Houses of Parliament
Designed by Sir Charles Barry, the neo-gothic palace was built between 1840 and 1888 on the site of Edward the Confessor's earlier palace that dated from the 11th century. In 1941 an incendiary bomb destroyed the House of Commons and it was rebuilt in the same style in 1950. The bell tower is often referred to as "Big Ben" actually its 13 ton bell.
County Hall
Designed by Ralph Knott and begun in 1909, County Hall was opened in 1922 as the offices of the London County Council (LCC). In 1964 it was succeeded by the enlarged Greater London Council (GLC). Political control of the GLC alternated between the two main political parties and during a period of Labour control it was abolished by the opposing Conservative prime minister Margaret Thatcher in 1986. Although use of the building as a University was mooted it was sold off and is now used as flats, hotels and restaurants. City Hall has now been built as a new home for the resurrected elected London government, the Greater London Authority (GLA).
London Eye
Designed by Julia Barfield and David Marks and opened in January 2000 the London Eye has been the instant success that eluded the project favoured by Government, the ill fated white elephant of the Millennium Dome. The wheel rises 135m (450ft) and weights 1600 tonnes. A ride gives unsurpassed views of London.